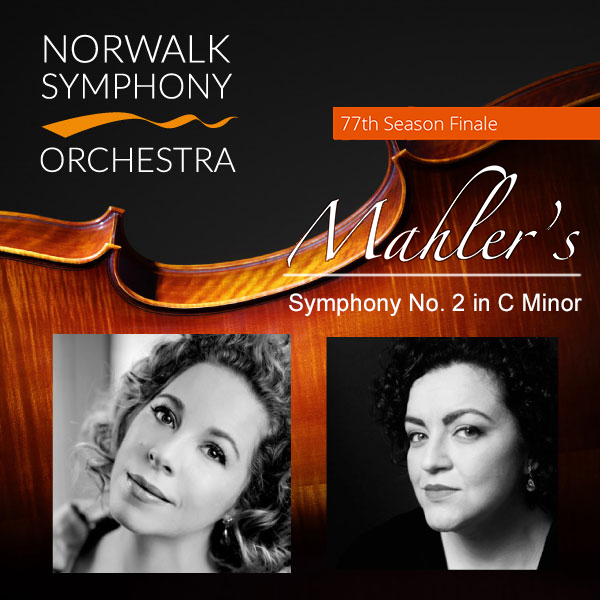 On May 20th at 8:00 p.m., the Norwalk Symphony Orchestra presents Mahler's Symphony No. 2 in C minor, "Resurrection", with the Mendelssohn Choir of Connecticut, Amelia Watkins (soprano) and Ann McMahon Quintero (contralto). Tickets are available online here.
Jonathan Yates, conductor of the Norwalk Symphony Orchestra since 2011, hasn't shied away from ambitious undertakings: two semi-staged opera productions¸ community "Messiah Sing-Alongs," celebrated soloists, and a number of world premieres. On May 20th, Maestro Yates fulfills a long-held dream - bringing Mahler's Second Symphony, "Resurrection," to the Norwalk Concert stage.
This is no small task. The symphony is a long one, even by Mahler standards (about 80 minutes). In addition, it requires massive forces; strings, winds, organ, extended percussion, full brass section, choir, and soprano and alto soloists. To perform this work is to invite comparison with legendary conductors such as Bruno Walter, Leonard Bernstein, Simon Rattle and, of course, Mahler himself.
Why this symphony? And why now? According to Yates, "Mahler's Second is the ultimate epic concert experience. It contains some of the most glorious music ever written. I can think of no other work that is more uplifting. Because of its size, this performance may be the only chance many people will have to hear it live!"
"This will be my first time conducting the work." Yates continued. "It's is hard to express my sheer excitement when I first heard it live. It was in Worcester, MA, with Ben Zander and the Boston Philharmonic. I literally thought the angels on the proscenium arch were going to fly out into the audience. That is the kind of excitement we're aspiring to create for the audience in this once-in-a-lifetime event!"
"We are very excited about the production. For the choral finale, we have recruited the Mendelssohn Choir of Connecticut (Dr. Carole Ann Maxwell, Music Director). Audiences here will remember how the choir helped bring 19th century Spain magically alive in our 2014 production of Carmen."
"We also have two dream soloists. Ann McMahon Quintero, our alto, is praised for her operatic interpretations as 'loving and sensitive, fierce and provocative, raw but generous'. She is also noted for performing in choral works of deep import. Ann has literally toured the world in "Defiant Requiem" a multi-media realization of the Verdi masterpiece, which celebrates its performance by the Terezín concentration camp inmates in the face of horrible Nazi oppression. Beethoven's Ninth is also one of her specialties. This will be Ann's first performance in Mahler's Second, but I expect it to become a staple of her repertoire."
"For the soprano part we are lucky to have Amelia Watkins, no stranger to the Norwalk Symphony stage. Last year, Amelia was our Musetta in La Bohème, and she has been our soprano soloist in Handel's Messiah several seasons running (also Mozart's Exultate Jubilate and Faure's Requiem). Amelia's repertoire runs from baroque to bel canto to contemporary, but she also is no stranger to the Mahler Second, having performed it at the National Arts Center in her home town of Ottawa, Canada."